Attention Transit Passengers!!
See the reviews of our customers who had chosen our tours over the free guided tours offered by the airport company.. →Go to the reviews on TripAdvisor. and see why people feel it's worthwhile spending money for professional guides, rather than having shorcoming volunteers.

We offer far more than what Free Guided Tours can. After all you get what you paid for. There are lots of adverse stories untold for the Free Service.

Limited offer Sumo Wrestlers' Training in our standard 4-hour tour of Narita
  from August 2 - 6, for arriving passengers in Narita before 9am.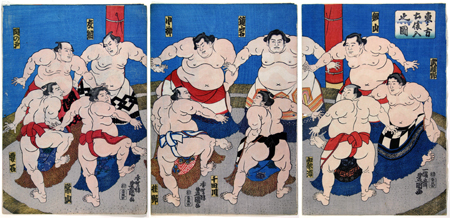 Ask for detail by email.
 
Our tours; Go to Tour Listings and More Tours for each detail
1. Standard 4-hour tour around Narita
2. Compact version of the above, mainly walking downtown Narita
3. Early morning starting at 5am
4. Tokyo day trip by train or 5. by minivan (night tour is available as well)
6. 5-hour tour of Itako/Sawara, rural towns near Narita
7. Tour escort service up to two weeks. (20,000 yen per day)
8. Meeting service at the airport.
*will be glad to provide tips for arranging tours in Japan
What's New
Tips on your arrival

To pass the CIQ zone as fast and easy as possilble
1) Obtain two forms from cabin attendants before leaving the plane.
 a) Embarkation and Disembarkation Card
 b) Custom Declaration
2) Fill them out before queuing up. This will save your time.
3) If you are not sure about transit visa situation, simply send your inquiry to us by e-mail. We need to know your nationality along with the status of permanent residency
*You may be required to have a visa entering Japan.
Please inquire beforehand if you are not sure about.
North Americans, EUs, and some Asians are exempt of visa.
All tours conducted by:
Katsumi Kamikawa and his associates
Certified National Tour Guide
Lic. #Chiba EN00805
Some of the negative comments you would never hear from the customers who had taken the free guided tours offered by Narita Transit Program at the airport. You don't hear them because when the tour is offered for free, it's not so easy to comment anything negative. (listed in order of frequency).
1. Being a lone woman traveler, felt very uncomfortable sandwiched between two elderly mail guides.
2. Ended up spending more than 10,000 yen (about US$100) having treated them for lunch. Eal was very expensive.
3. Didn't realize it required so much walking, particulary coming back to the train station, we were just simply exhausted.
4. Was not sure if the guides had real knowledge of the things they explained with their limited English.
5. Communication was a problem; their heavily accented English was tiring to listen to
6. Wanted to do more shopping on the street, but because of the other participants, we were prompted to the temple ground, which was not much of our interest.